Stay and Play! Fly Fishing!
Villa Walton is very centrally located in the middle of the Waikato. The Waikato has some of the best fresh water fishing in NZ. Although Taupo and the Tongariro rightfully get lots of attention, just a little south of this world renown fishing region are a number of amazing fishing areas with hundreds of fishing spots. The three main areas we fish are highlighted below.
Fishing The Mighty Waikato Region (and beyond)
Villa Walton is set just outside picturesque Matamata, overlooking local Dairy Farms and the Kaimai Ranges this peaceful location awaits you. Centrally located to Hobbiton, Cambridge, Te Aroha Mineral Spa, Hamilton Gardens, Rotorua and Waitomo Caves.
Fishing Attractions
However one of the better kept secrets (except to locals) is the abundant high quality fresh water fishing opportunities available in this beautiful part of NZ. While the world famous Lake Taupo and the Tongariro River and their tributaries get most of the international recognition, and deservedly so (Taupo is only 1.5 hours from Villa Walton), the local region hosts amazing fishing opportunities. In fact the Waihou River has hosted the World Fly Fishing champs! Let's take a look at what's available in the region.
Fly Fishing Locations
The map opposite gives you some idea of the vast options for fresh water fishing in the region, most of it being fly fishing. We can't advise on all of the spots but here are our favourite three.
Upper Waihou.

One of the country's best spring-fed rivers providing classic trout fishing in very clear water. Typically, rainbow trout are very abundant with about 1000 fish per

kilometre

and although most fish are small, there is still a good population of large trout.

Between Okoroire and State Highway 5 there is no public access to the river and permission should be obtained from local landowners on Somervilles Road or SH5. Upstream from SH5, the river is wadeable over cobblestone bed, and the stretch of water between here and Whites Road gives a good days fishing. A "fishing reserve" provides public access on both sides of the river, except for the first kilometre above SH 5 where the reserve is restricted to the true left bank (left bank looking downstream). Public Access continues upstream from Whites Road where a walkway runs alongside the river. In this section, the Waihou meanders across open farmland with short, deep pools and long cobblestones runs offering a variety of attractive fishing water. About 4 kilometres above Whites Road, the river enters a series of large springs that provide challenging but usually frustrating fishing on big wary rainbows. Above the springs, the Waihou rapidly diminishes in size to a small stream offering limited fishing opportunities. Access to the walkway can be gained from either Whites Road or Leslie Road.

Ohinemuri River. The Ohinemuri is one of the most popular rivers in the region with excellent access and a good population of both rainbow and brown trout. The most popular section of the Ohinemuri, and probably the most productive, is the Karangahake Gorge between Paeroa and Waihi. Here there is a variety of water present – long deep pools, boulder runs, and extensive rapids. Convenient access is provided by State Highway 2, which runs parallel to the river. During summer, the best fishing is in the faster flowing water at the heads of pools or where there is breaking water. About equal numbers of rainbows and browns are present, the latter often of considerable size.

Fishing the Ngongotaha. The Ngongotaha Stream is a world class fishery featuring rainbow and brown trout. The browns can reach 5kg and often average around 3kg while rainbows range between 1kg and 2kg, sometimes bigger. The stream provides excellent year round opportunities for trout fishers (anglers should check regulations before fishing). During summer, resident trout numbers increase when Lake Rotorua trout seek cold water refuge and feed in the stream. Rainbows run upstream year round with spawning peaks in winter and early spring, whereas brown trout often migrate in summer taking up residence until spawning in autumn. Migrating fish can be targeted throughout the river with a selection of methods. Weighted nymphs and smelt flies under an indicator work well as do traditional wet flies such as Woolly Buggers swung on a sinking line. During summer, dry fly action occurs in the higher section with fish rising to caddis, mayfly or cicadas during the evening. Spin fishing is allowed in the lower reaches below SH5. The stream mouth produces fish year round and is especially productive at night. Expect to pick up a big brown trout here occasionally but be warned you'll need stout tackle as they can reachmassive sizes.
The link below will give you more detailed information on fishing in this region and the rest of New Zealand.
https://fishandgame.org.nz/auckland/freshwater-fishing-in-new-zealand/fishing-locations-and-access/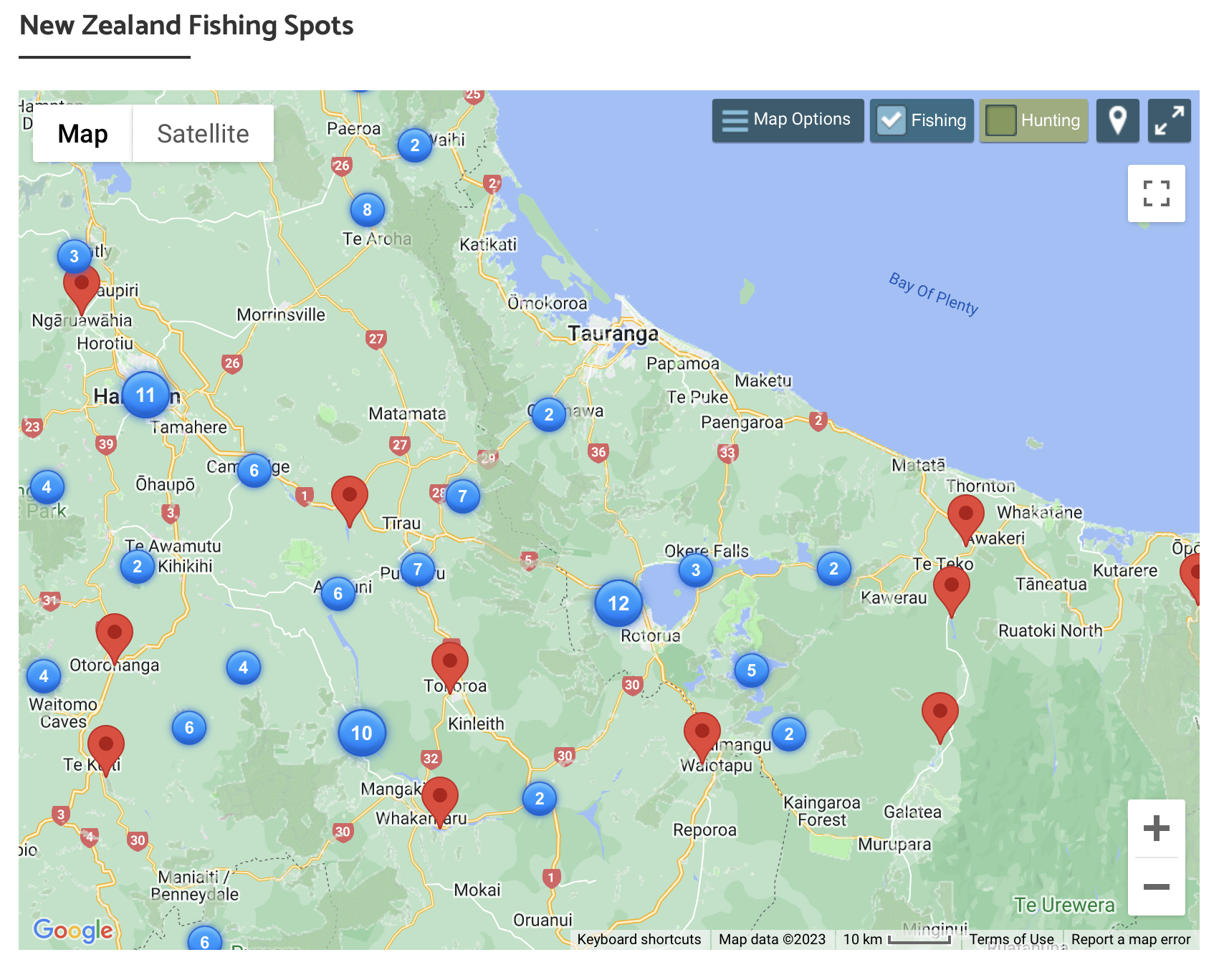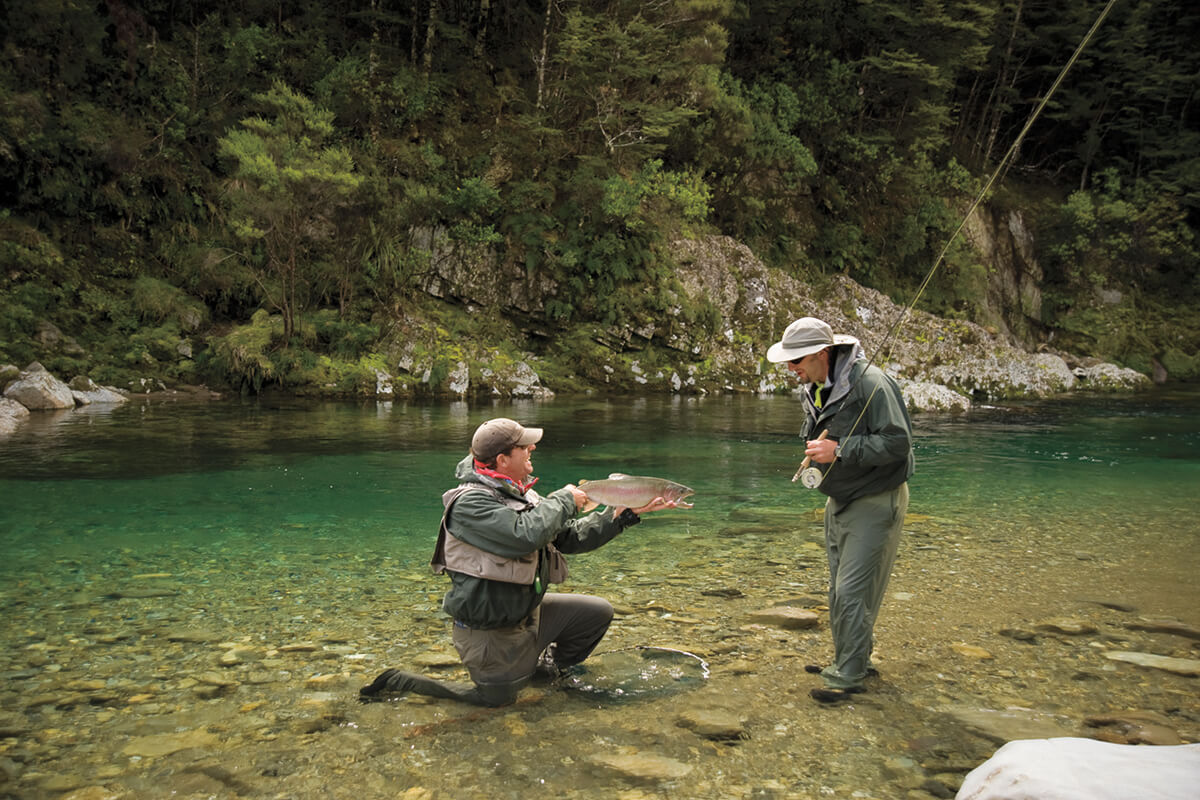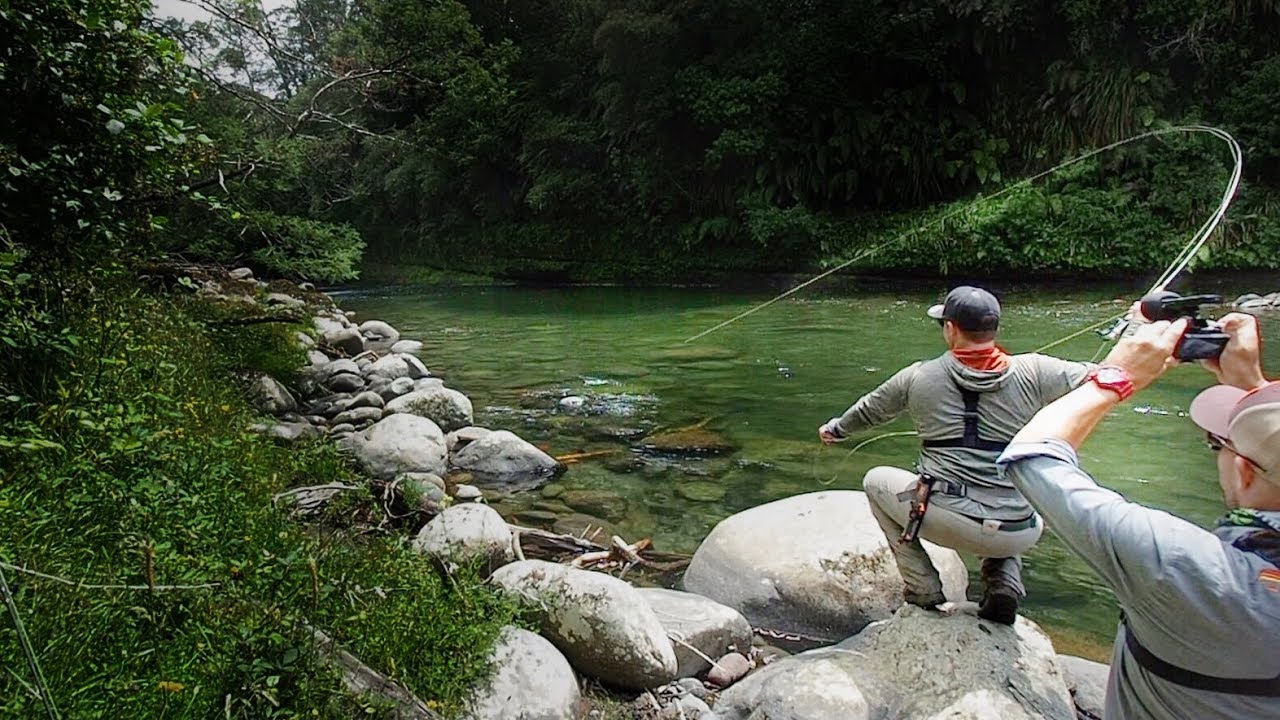 Fishing Licences
All fishers must have a licence - no exceptions. Villa Walton can quickly sort you out if you need a licence - they are available on-line from Fish & Game. Don't fish without one.
Fishing Equipment
A 5-6 weight rod is best. Four piece makes it easy for access, and waders are a must to access the best spots. A combination of dry fly and nymph fishing is available and there is ample trolling from boats in the lake areas.
If you're not bringing your own gear please enquire and we can see what we can set you up with.
Guides
Guides are available but need to be pre-booked. Unlike the very popular tourist areas Guides in this region are more scarce.
Contact Villa Walton for more information.